When Oregon Health Sciences University (OHSU) in Portland undertook a multi-million dollar renovation of its south surgery core, the Department of Surgical Services used the opportunity to attack a chronic inventory and space problem.

A new material management strategy was developed by Nancy Simpson, RN, MBA, OHSU Materials and Systems Coordinator, using more than 125 UNICELL® systems to contain and control over 10,000 different supply items.

It was a two-step strategy; organize supplies and stock them where they were needed, and then reduce inventories to the minimum needed to function efficiently.

"With UNICELL®, we provide a specific location for each item," explains Simpson. "We have cut our inventory by one-third, because our stock is better organized and easier to inventory. In addition, items are stored more efficiently for substantial space savings."

"Once we saw the tremendous space savings and efficiency gains that UNICELL® provided to sterile storage, we decided to utilize the cells throughout the hospital" Pete Hazel, OHSU Surgical Services Assistant, says.

UNICELL® storage systems are now located in sterile storage, orthopedics, central service processing, anesthesia work rooms, and PACU.

Sterile storage uses more than 90 UNICELL® units for a variety of supplies. Most units are hung on wall-mounted rails with easy-to-use transporter carts available to lift them on or off for relocation. Several others are mounted on casters to create flexible storage and transportation units. The department also uses tall storage units, small "restock" carts that roll wherever needed, and two mobile workstations.

Orthopedics uses a four-cell, rail-mounted module. "The system allows them to store plaster rolls in drawers to minimize mess. Before, they were stored down the hall, which hindered efficiency," comments Hazel.

Sterile processing has several units including three mobile workstations which staff use to assemble and wrap trays of instruments for specific procedures. UNICELL® also stores peel-packs and other small disposable items that are added to the instrument trays prior to sterilization.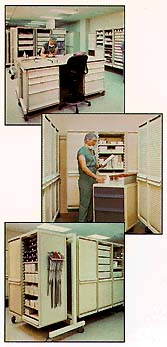 Top: Sterile Processing storage units and work stations.

Bottom: Restock cart filled with supplies in Central Storage.

Bottom: Customized units with supplies and a holder for oversized catheters which can be attached without weakening the units.
Each OR has a mobile cart for small supplies and a taller one for bulky items. And Pre-op has two small carts that fit under workstations to provide compact storage of IV supplies and other miscellaneous items. "It is a big plus to be able to move the units where and when they are needed," Hazel explains.
Despite downsizing of the anesthesia work room, UNICELL® units consolidate all necessary items to one area. "The storage capacity provided in this small room is phenomenal," Hazel continues. "We more than doubled the capacity."
The PACU has a rail-mounted module with three large cells to store supplies for specialized procedures, and another smaller cell system which is conveniently located by workstations and patient beds for quick access.
"We achieved a tremendous space savings in work areas. By using UNICELL®, we are able to store in 36 sq. ft., the same supplies that took up 200 sq. ft. when we used steel rack shelves," explains Hazel.
"UNICELL® is extremely flexible," he adds, "which is important for the wide variety of materials we store. I like the fact that all of the drawers, trays, and shelves pull out fully for easy access. We can completely load the units with heavy loads like IV solutions, and the sides will not bow. Furthermore, we can attach things like holders for oversized catheters to the side walls without weakening the units.
"UNICELL® has proven to be an outstanding addition to the Department of Surgical Services."
---